Highest temperatures ever recorded
The Earth is now at the highest average global temperature ever recorded.
July 2023 is already the hottest year on record, with global temperatures hotter than any prior days on record for 17 days straight.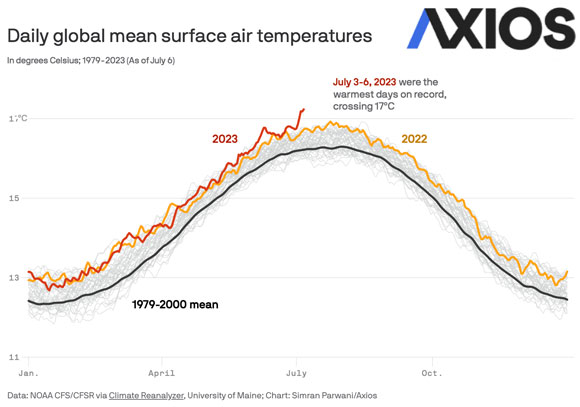 We need a strong majority in Congress with people who are willing to fight for our planet and for future generations with big, bold change. This means we must work together.
Will you join our movement by donating today before our end-of-month deadline?
During their time in the majority, MAGA Republicans have shown a dangerous disregard for climate policy and investments. For example, although we had made a significant amount of progress and were working on implementing our science-based Climate Action Plan, they decided to shut down the Select Committee on the Climate Crisis.
As climate emergencies become more frequent, I hope extremist Republicans will open their eyes to the magnitude of this crisis — but we can't sit around and wait for them. We need a Congress that will take action to address the growing threat of climate change, support clean energy jobs, and protect the environment now. Your contribution will help secure a House majority with leaders who will fight for our planet.
Thank you for standing with me,
Suzanne